Hey Look!
A Car Boot Sale
Held by
Cardiff Theosophical Order of Service
in aid of Macmillan Nurses.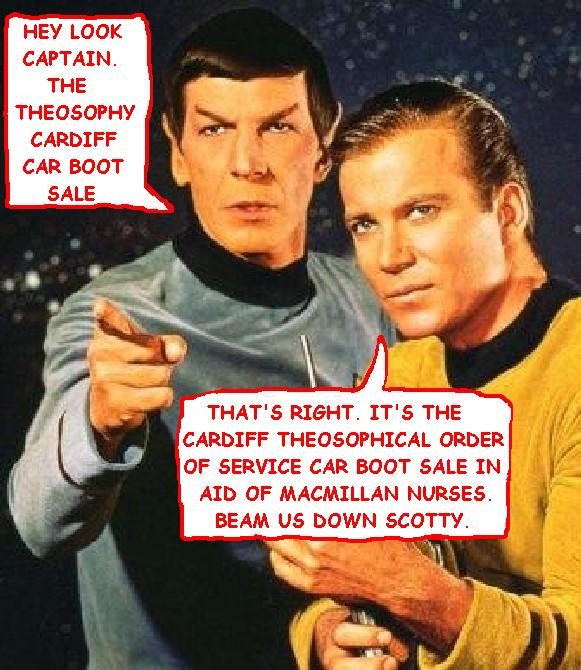 Cardiff Theosophical Society,
206 Newport Road,
Cardiff, Wales, UK, CF24 – 1DL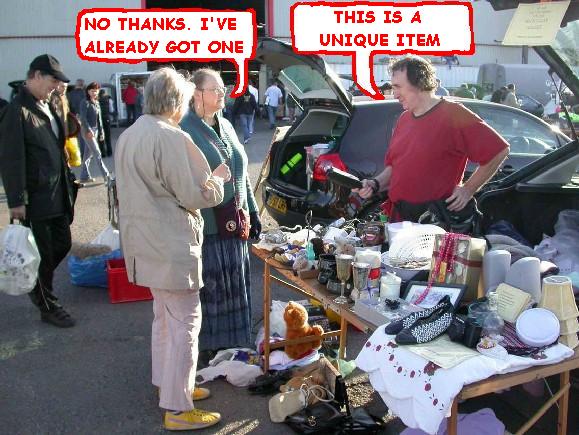 Cardiff Theosophical Order of Service held a Car Boot Sale in aid of Macmillan Nurses at Cardiff's Splott Market on Saturday Morning, October 11th 2008.
Over £100 was raised for Macmillan Nurses and we hope to hold more Boot Sales in the future. Car Boot Sales really are fun and we recommend holding one to other Theosophy groups.
______________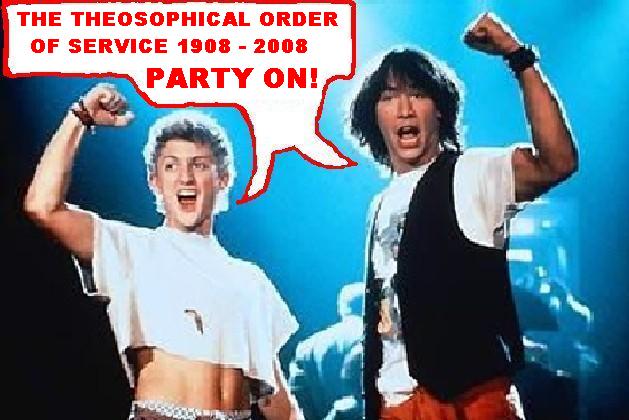 Tips for holding a Car Boot Sale
We have had enquiries, from other UK Theosophy Groups, as to how we went about it and here are some pointers, if you are thinking of doing one yourself.
First, find your regular Car Boot Sale. Cardiff has two on Saturday Mornings, Splott Market and Bessemer Road, we chose Splott Market as the closest to Cardiff Theosophical Society. Most towns seem to have a regular car boot venue.
It is a better to go down a week beforehand and find out about the layout, how much a pitch costs and where the entrance (for cars) is. At Splott you drive in, a steward shows you where to park and takes a fiver off you.
We arrived at 8.30 am and there were still plenty of places but this will certainly vary with different venues. In Splott, Hard Core Car Bootists are on site before 7 am and this is probably the case elsewhere.
It is difficult to operate without some sort of table. We used a pasteboard and next time we will add a small folding table to this.
Waist bags worn at the front are the best way to keep the money. If you keep the takings in a tin then you will be constantly distracted by keeping an eye on it.
If you have clothes to sell, have some way of hanging them up. Clothes draped over things doesn't really work, this is something we'll do better next time.
We put a notice up saying that the stall was in aid of Macmillan Nurses and several people gave us donations. We also had some flyers about Theosophy Cardiff and our events.
We hope this is of help
Good Luck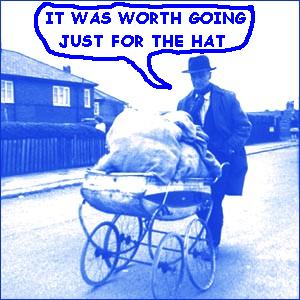 A satisfied customer on his way home from the
Cardiff Theosophical Order of Service Car Boot Sale.
You don't get hats like that these days (or prams either)
Cardiff Theosophical Order of Service
Cardiff Theosophical Order of Service Map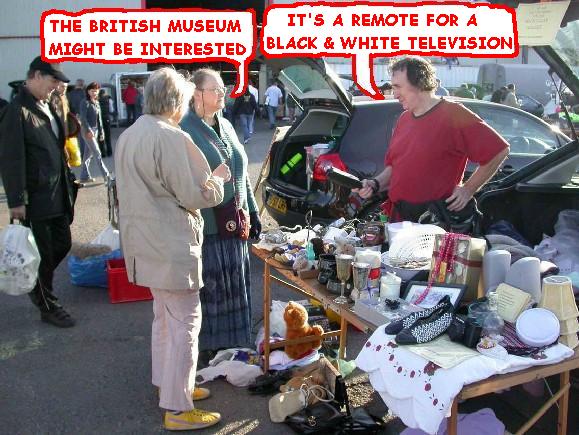 We did sell that item, whatever it was
206 Newport Road, Cardiff, Wales, UK, CF24 – 1DL
Events Information Line 029 2049 6017
_______________________
Find out more about
Theosophy with these links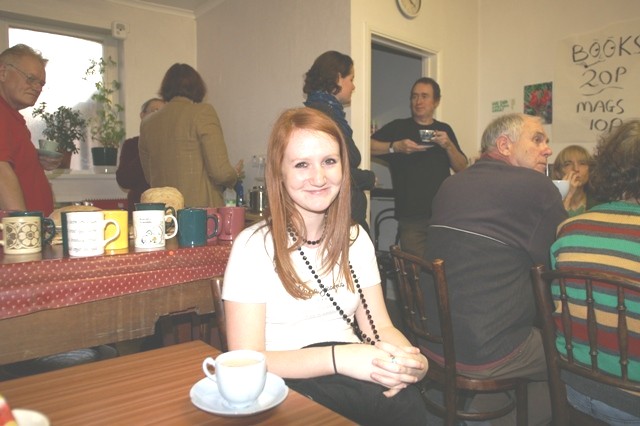 Cardiff Theosophical Society meetings are informal
and there's always a cup of tea afterwards
The Cardiff Theosophical Society Website
The National Wales Theosophy Website
Dave's Streetwise Theosophy Boards
This is for everybody not just people in Wales
Theosophy Cardiff's Instant Guide to Theosophy
General pages about Wales, Welsh History
and The History of Theosophy in Wales
Teosofia en Cardiff (Página en Español)
One Liners & Quick Explanations
The Most Basic Theosophy Website in the Universe
If you run a Theosophy Study Group you can use
this as an introductory handout
The preparation of this Website
The Spiritual Home of Urban Theosophy
The Earth Base for Evolutionary Theosophy
__________________________
Your Own Theosophy Group Starts Here
A Guide to starting your own Theosophy Group
& of course you don't need to live in Wales
to take advantage of this guide
________________________
The Theosophy Cardiff
Glastonbury Pages
The Theosophy Cardiff Guide to
The Theosophy Cardiff Guide to
The Theosophy Cardiff Guide to
The Terraced Maze of Glastonbury Tor
Glastonbury and Joseph of Arimathea
The Grave of King Arthur & Guinevere
Views of Glastonbury High Street
The Theosophy Cardiff Guide to
_____________________
Camberley, Surrey, England GU15 - 2LF
Concerns about the fate of the wildlife as
Tekels Park is to be Sold to a Developer
Concerns are raised about the fate of the wildlife as
The Spiritual Retreat, Tekels Park in Camberley,
Surrey, England is to be sold to a developer.
Tekels Park is a 50 acre woodland park, purchased
 for the Adyar Theosophical Society in England in 1929.
In addition to concern about the park, many are
 worried about the future of the Tekels Park Deer
as they are not a protected species.
Anyone planning a "Spiritual" stay at the
Tekels Park Guest House should be aware of the sale.
There is confusion as the Theoversity moves out of 
Tekels Park to Southampton, Glastonbury & 
Chorley in Lancashire while the leadership claim
that the Theosophical Society will carry on using 
Tekels Park despite its sale to a developer
Future of Tekels Park Badgers in Doubt
Tekels Park & the Loch Ness Monster
A Satirical view of the sale of Tekels Park
in Camberley, Surrey to a developer
The Toff's Guide to the Sale of Tekels Park
What the men in top hats have to
say about the sale of Tekels Park
____________________
Theosophy Cardiff Nirvana Pages
Classic Introductory Theosophy Text
A Text Book of Theosophy By C W Leadbeater
What Theosophy Is  From the Absolute to Man
The Formation of a Solar System  The Evolution of Life
The Constitution of Man  After Death  Reincarnation
The Purpose of Life  The Planetary Chains
The Result of Theosophical Study
An Outstanding Introduction to Theosophy
By a student of Katherine Tingley
Elementary Theosophy Who is the Man?  Body and Soul   
Body, Soul and Spirit  Reincarnation  Karma
Preface to the American Edition    Introduction
Occultism and its Adepts    The Theosophical Society
First Occult Experiences   Teachings of Occult Philosophy
Later Occult Phenomena    Appendix
Preface    Theosophy and the Masters    General Principles
The Earth Chain    Body and Astral Body    Kama – Desire
Manas    Of Reincarnation    Reincarnation Continued
Karma    Kama Loka    Devachan    Cycles
Arguments Supporting Reincarnation
Differentiation Of Species Missing Links
Psychic Laws, Forces, and Phenomena
Psychic Phenomena and Spiritualism
Karma  Fundamental Principles  Laws: Natural and Man-Made  The Law of Laws 
The Eternal Now  Succession  Causation The Laws of Nature  A Lesson of The Law
  Karma Does Not Crush  Apply This Law  Man in The Three Worlds  Understand The Truth
Man and His Surroundings  The Three Fates  The Pair of Triplets  Thought, The Builder
  Practical Meditation  Will and Desire  The Mastery of Desire  Two Other Points
  The Third Thread  Perfect Justice  Our Environment  Our Kith and Kin  Our Nation
The Light for a Good Man  Knowledge of Law  The Opposing Schools
The More Modern View  Self-Examination  Out of the Past
Old Friendships  We Grow By Giving  Collective Karma  Family Karma
National Karma  India's Karma  National Disasters
Try these if you are looking for a
local Theosophy Group or Centre
UK Listing of Theosophical Groups
Please tell us about your UK Theosophy Group
Worldwide Directory of Theosophical Links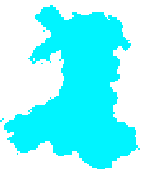 General pages about Wales, Welsh History
and The History of Theosophy in Wales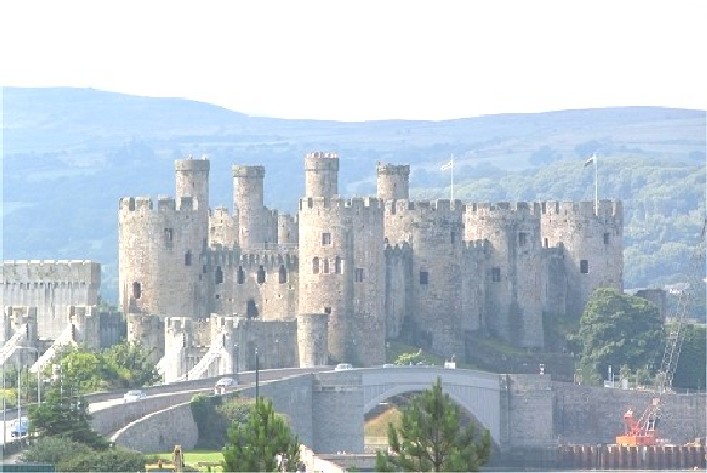 Conwy on the North Wales Coast
Wales is a Principality within the United Kingdom
and has an eastern border with England. The land
area is just over 8,000 square miles. Snowdon in
North Wales is the highest mountain at 3,650 feet.
The coastline is almost 750 miles long. The population
of Wales as at the 2001 census is 2,946,200.
__________________________________________
Link Exchange Web & Blog Directory of Top Sites Dmegs.com
SEO friendly web directory of top sites & blogs organized by topic
into categories and presented according to relevance of website.
__________________________
Cardiff, Wales, UK, CF24 – 1DL